May, 8 2017
MOTHER'S DAY SPECIAL ALL DAY BUFFET
---
Salute to all the Mothers for everything you do. Please allow us to pamper you on this Mother's Day with dishes from all over India. Join us for our All day Grand Buffet featuring 60+ recipes from over 20 states of India.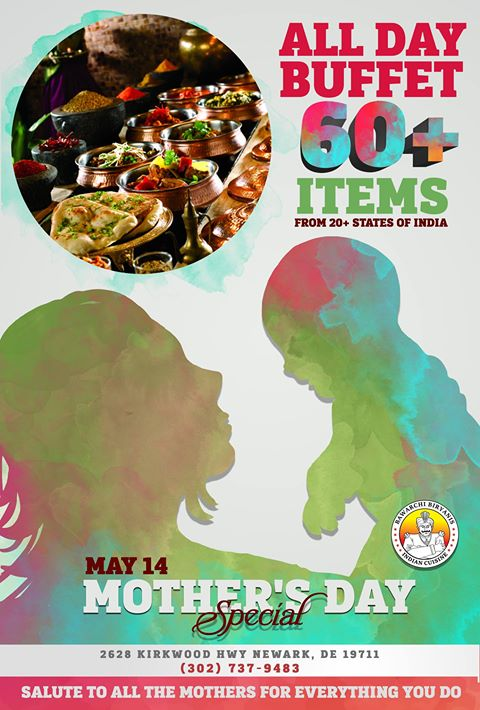 ---
October, 13 2016
BAWARCHI NEWARK NOW OFFERS LUNCH DELIVERIES AT YOUR WORK LOCATION - FOOD@WORK
---
We are excited to offer lunch orders delivered at your work location. We are currently offering lunch deliveries at
JPMorgan Chase (Astra Zeneca building, 3 CC building downtown, Morgan Christiana Center, Whiteclay Center
Barclays - Riverfront (Juniper building, Dryrock building).
Checkout our
Food@Work
to skip the lines and place your order.
Note: Order Deadline is 10:00 AM daily for deliveries at 12:00 PM and will be dropped off at Security Check-In
---
May, 27 2016
GRAND OPENING OF BAWARCHI BIRYANI POINT @ NEWARK, DE
---
Bawarchi Biryani Point @ Newark, DE will be open for business from 05/27/2016. We welcome everyone to come and try our traditional Indian recipes in a modern casual setting.
Please visit our location site (www.bawarchibiryanide.com) for more information on menu offered at the location.
---